Interviews & special features:
Featured reviews:
''

This album, A follow up to the 'One Small Step EP' is a major step up from its predecessor in terms of mastering. If you listen close you can single out each instrument without even trying. That is not the only great part about this album though, as you listen through the album you can hear the love that Nick had put into the album. Be it from tracks such as 'Hearts Racing', 'Head Above Water, or even the samples used.

This album, is a true labor of love and one of my favorite albums I own.'' - David Klein via Bandcamp on Two Years On
''

A very heartfelt and sincere album with songs to comfort and inspire you. It is music for the sake of music, it is a passion to create something incredible, something life-changing, and put one's soul into the vocals, one's life experience into the lyrics, one's energy into instrumentation and the best skills into production. "Two Years On" is about living your life as your heart tells you to, dealing with difficulties, overcoming issues. I keep coming back to this album over and over.'' - Vladimir Kuznetsov via Bandcamp on Two Years On
Powered by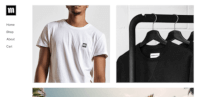 Create your own unique website with customizable templates.